Fibromyalgia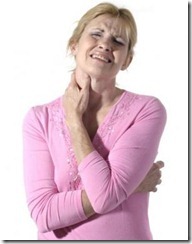 Fibromyalgia is a common condition characterized by long-term, body-wide pain and tender points in joints, muscles, tendons, and other soft tissues. Fibromyalgia has also been linked to fatigue, morning stiffness, sleep problems, headaches, numbness in hands and feet, depression, and anxiety.
Symptoms:
The overwhelming characteristic of fibromyalgia is long-standing, body-wide pain with defined tender points. Tender points are distinct from trigger points seen in other pain syndromes. Unlike tender points, trigger points can occur in isolation and represent a source of radiating pain, even in the absence of direct pressure.
The soft-tissue pain of fibromyalgia is described as deep-aching, radiating, gnawing, shooting or burning, and ranges from mild to severe. Fibromyalgia sufferers tend to wake up with body aches and stiffness.
For some patients, pain improves during the day and increases again during the evening, though many patients with fibromyalgia have day-long, unrelenting pain. Pain can increase with activity, cold or damp weather, anxiety, and stress.
Chiropractic and/or neurofeedback along with dietary and lifestyle changes may begin alleviating the symptoms of fibromyalgia as they balance the brain and nervous system and improve their function.